About

Black Hills Title Company

Black Hills Title is a full-service title company offering title insurance and escrow closing services in the Black Hills area of South Dakota and Wyoming.

Wayne Roe started the company formerly known mostly as Meade County Title in 1986. It was a two-person operation located in the back of a utility company on Main Street in Sturgis. Selling part of the business and turning over the management to his son, Dan Roe in 2002. The company has grown over the years and is known for its insistence on fast, accurate service you can rely on.

In November of 2015, the opportunity presented itself to acquire the title companies in Lawrence, Butte and Harding Counties. At that time, the business name was changed to Black Hills Title. An opportunity was presented in August 2019 to acquire a title company in Newcastle, WY. Now featuring locations in Spearfish, Deadwood, Sturgis, and Belle Fourche, SD along with Newcastle, WY they have the convenience of more locations than any other title company in the Black Hills Area.

While we offer multiple locations coupled with industry-leading technology, there is no substitute for our experienced staff of 23 employees with a combined experience of over 300 years including 14 licensed title examiners and 7 closing agents.

Black Hills Title offers a level of convenience and efficiency unmatched in our service area. Whether you are working with us for the first time or have been a valued client for years, our team appreciates the opportunity to meet your needs and exceed your expectations.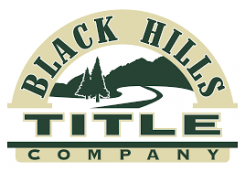 PO Box 909 Sturgis, SD 57785
6053474402
Mon-Fri: 8am-5pm
Sat-Sun: Closed