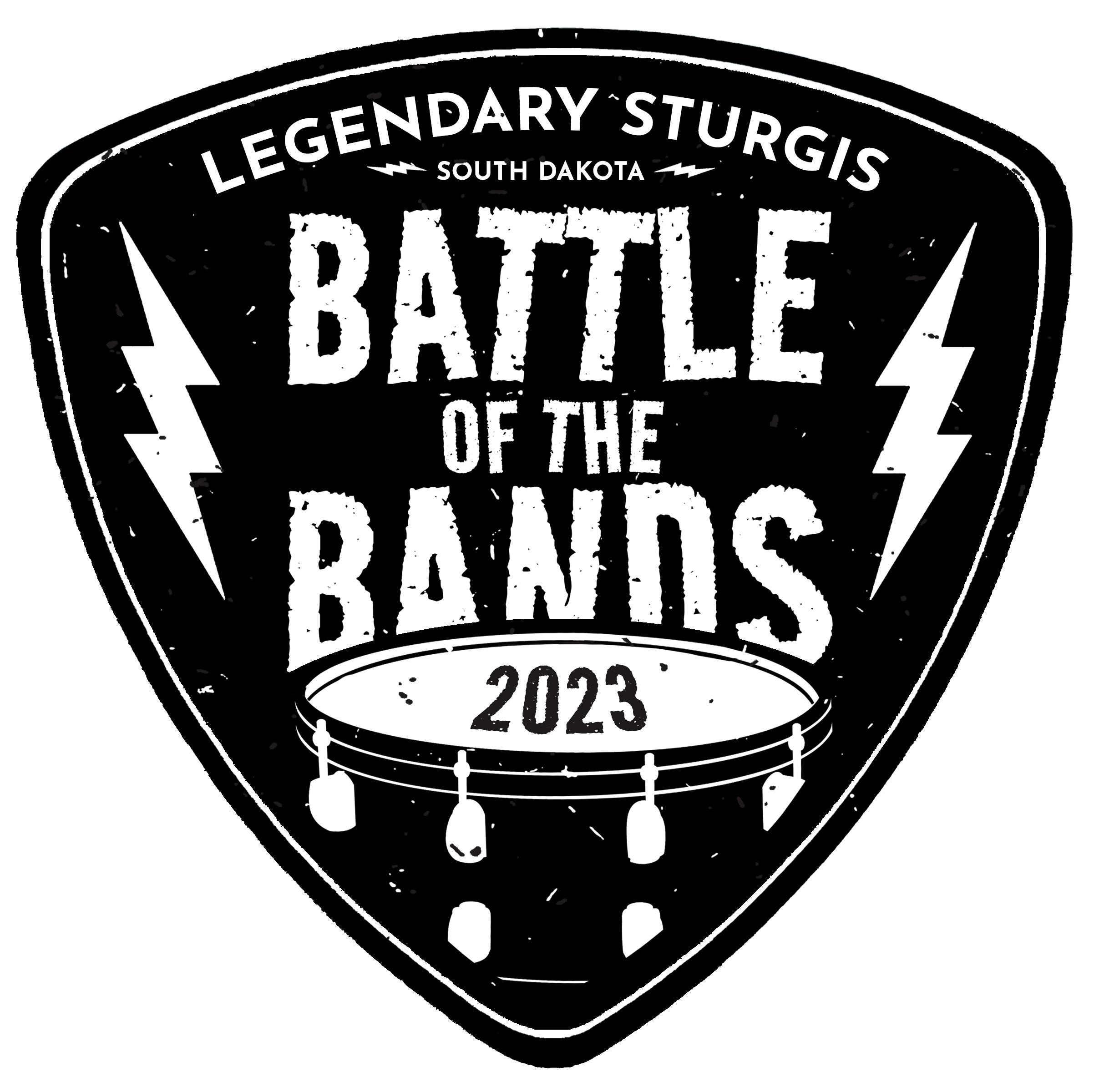 Legendary Sturgis BATTLE OF THE BANDS
Get ready to rock!

We are pleased to announce a badass expansion of our third annual Sturgis Art Festival: Prepare yourself for the face-melting, mind-bending sounds of garage band magic at Harley-Davidson Rally Point during our first ever Legendary Sturgis Battle of the Bands!
We are teaming up with the most prestigious regional names in business to bring a one-day Battle of the Bands festival the evening of Saturday, June 3rd 2023 in downtown Sturgis. This brand new multi-genre competition welcomes groups from large to small, old to young, and heavy to mellow for a competitive line-up like no other. All ages will compete for substantial cash and in-kind prizes – and don't forget, the honor of being Battle of the Bands Champion in legendary Sturgis, SD!
CALL FOR BANDS
Call for bands! We are now accepting submissions to compete in the first ever Legendary Sturgis Battle of the Bands. This competition is open to groups of any age, any genre, and any experience level! Covers and original music are both allowed.
Bands must be able to provide their own instruments and instrument accessories. The sound system, sound and light techs, and some basic instruments will be available.
Please thoroughly review the Guidelines & Regulations included in the registration packet. Each group must pay a $50 registration fee. Registration is due no later than Saturday, May 20th 2023.
PRIZES
Our team has been working tirelessly to create the BEST line-up of prizes for our top three competitors to launch you the next level! First, second, and third place bands will win from our major prize pool including items such as:
MAJOR CASH thanks to our generous sponsors!
PROFESSIONAL STUDIO TIME at Cottonwood Studios located in downtown Rapid City, SD!
MERCH PACKAGE with Ink & Lasers print company based in Spearfish, SD for your band tee, sticker, and other merch needs!
HOTEL STAY for your next gig in the Black Hills!
PROFESSIONAL PHOTO SHOOT for your band with White Canvas Art Co.!
ON-AIR INTERVIEW & RADIO PLAY TIME with HomeSlice Media Group!
GIG AT STURGIS VENUE OF CHOICE with our participating Sturgis sponsors!
JUDGES & SCHEDULING
Competitors will be assigned a minimum 15-minute set with 15-minute change-over time between groups at the legendary Harley-Davidson Rally Point Stage in downtown Sturgis. Our Stage Manager and production crew will be contacting registered competitors prior to the competition to finalize equipment needs and scheduling.
Five expert judges will score competitors in a variety of categories. Categories may include criteria such as originality, musicality/theory, energy/quality of stage presence, professionalism, and others. A more detailed rubric of judging criteria will be provided prior to the competition date.
HOW TO ENTER
Click below to download our band registration form. Please review the complete list of Guidelines & Regulations included in the packet. Registration is due no later than Saturday, May 20th 2023. You can enter one of three ways:
Mail or deliver your application, media, and $50 fee to the Sturgis Area Chamber at 2040 Junction Avenue, Sturgis, SD 57785. – or –

Post a video submission on Facebook, TikTok, or Instagram with #SturgisBattleoftheBands and #LegendarySturgisBOTB. We will send you an application to complete and instructions for paying the $50 fee if you have not yet done so. – or –

Text or email your application and supporting media (video/photos/links/etc) to Events@SturgisAreaChamber.com. You can call, deliver, or mail the $50 registration fee.
DOWNLOAD THE REGISTRATION FORM
BECOME A SPONSOR
Your support for this new experience is critical to success in its first year. Sponsors will have a wide range of benefits, from in-person participation to the gamut of advertising perks. We are looking for a few extra-generous sponsors to help us keep it "grunge" by sponsoring our cash prizes for winning competitors – these sponsors will have in-person recognition and a variety of other highlights leading up to and during the event.
Please contact us as soon as possible to help us meet our support deadline of March 24, 2023. We can't thank you enough for all you do – let's bring some visitors to the Black Hills and let the music flow this June at the Sturgis Battle of the Bands!
FOLLOW US ON SOCIAL
Click the buttons below to follow us on Facebook, Instagram, and TikTok! Stay tuned on our social for upcoming regular judge interviews, performance tips & tricks, sponsor shout-outs, prize announcements, and more!
JUDGE INTERVIEWS | PERFORMANCE TIPS & TRICKS | PRIZE ANNOUNCEMENTS | BAND FEATURES
EVENT OVERVIEW
Event Date: Saturday, June 3rd 2023
Event Time: 2PM – 8PM (may change depending on # entries)
Event Location: Harley-Davidson Rally Point (corner of Main Street & Harley-Davidson Way), Downtown Sturgis, SD
Contact Info: Sturgis Area Chamber / (605) 347-2556 / Events@SturgisAreaChamber.com
Event Description: The Legendary Sturgis Battle of the Bands is a first-year event held in conjunction with the 3rd Annual Sturgis Art Festival located in downtown Sturgis, SD. This family-friendly event is organized by a committee within the Sturgis Area Chamber of Commerce & Visitors Bureau, a 501(c)6 nonprofit organization. This event aims to bring visitors to Sturgis, enhance the resident experience, and support the fine arts in our community. Please contact us to learn more and submit your application. THANK YOU for supporting the arts in Sturgis!