About

Black Hills Community Loan Fund

BHCLF is dedicated to creating financial opportunities for economically disadvantaged families who aim to strengthen their financial future in the Black Hills Region.

A community development financial institution (CDFI) is a financial institution that provides credit and financial services to underserved communities and populations. Their mission is to deliver responsible, affordable lending to low-income individuals and low-wealth businesses in order to keep them competitive and in the economic mainstream. Through financial educational training, a CDFI can assist in providing the tools necessary for homeownership and entrepreneurship.
Amenities
Individual Development Account (IDA)
One-On-One Credit Counseling
Building Native Communities: Financial Skills for Families
Pathways to Home Ownership
Indianprenneurship: "A Journey into Native American Business"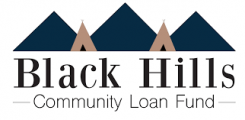 607 1/2 Mt Rushmore Rd Ste 105 Rapid City, SD 57701
6055195124
Mon-Fri: 8:30am-5pm
Sat-Sun: Closed