About

Sturgis Weddings/Black Hills Rally Weddings

We are family-owned, second-generation well-trained wedding planners who now specialize in the small "boutique weddings" for those who want the natural beauty of the Black Hills as their backdrop on their special day. High on a ridge overlooking the Black Hills our weddings are created with rustic elegance and romantic theme. We offer you a setting as stunning as only nature can provide, with an experienced officiant and memories that will last you a lifetime.

We are second generation "well trained" wedding planners. and since 1984 we have dedicated ourselves to to be fair and keep our weddings affordable for all. We offer reasonably priced packages and specials because we keep our overhead minimal.

Our mother, Marian Fischer, was the original Wedding Planner in Carmel California having performed literally thousands of weddings in her 35 year career. It was her belief that everyone should have the opportunity to have a beautiful wedding that they can afford. We proudly carry on with her belief in our tradition.
Amenities
Biker Weddings
Traditional Weddings
Affordable Weddings
Black Hills Ceremonies
Unique Weddings
Affordable Ceremonies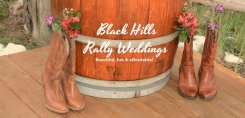 20741 Bauer Ave. Sturgis, SD 57785
6054900900