About

Casteel Auction & Real Estate

Casteel Auction & Real Estate, Inc. is a full-time real estate company providing auction & real estate sales services in Sturgis and Western South Dakota. Real estate listings are handled through our real estate office in Sturgis, SD, which is licensed in South Dakota. Our Auction Company conducts Real Estate, Liquidation, Estate, Farm Equipment, Antique, Household, and some Heavy Equipment auctions.

We have a professional, honest, and friendly staff to handle your request, with the equipment to get the job done.

Casteel Auction and Real Estate, Inc. is a real estate company and has been in the Auction Business since 1979. We have several auctions of all types per year in our area. We have been actively involved in Farm/Ranch, Residential, and some Commercial real estate since being licensed in 1984. We conduct and handle several auctions for charities, golf clubs, Arts Council, Ducks Unlimited, Turkey Federation, Rodeo Clubs, and benefits in our area every year. We make a conscious effort to stay involved and support our local community.
Amenities
Farm/Ranch Listings
Residential Listings
Commercial Listings
Charity Auctions
Estate Auctions
Business Surplus Auctions
Liquidation Auctions
Farm Equipment Auctions
Antique Auctions
Household Auctions
Heavy Equipment Auctions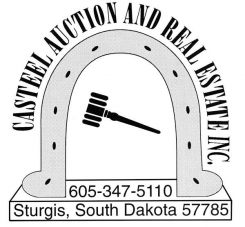 1951 Junction Ave Sturgis, SD 57785
6053475110
Mon-Fri: 8am-5pm
Sat-Sun: Closed