About

Downtown Sturgis Foundation

The Downtown Sturgis Foundation is a tax-exempt 501(c)(3) non-profit organization started in 2013. Its mission is to foster economic and community development by creating a vibrant business district rich in appeal and distinct to Legendary Downtown Sturgis.

Through its tax-exempt status, the Foundation is able to assist caring people who desire to help revitalize the City's core. Through financial donations, donors can make a positive impact on the quality-of-place for downtown Sturgis.The Downtown Sturgis

Foundation makes it easy for donors to achieve their charitable goals.
Donors can contribute today through outright gifts of cash in order to acquire items such as sculptures, benches, landscaping, etc.
Donors can contribute tomorrow by designating a portion of an estate to the fund.
The Downtown Sturgis Foundation accepts all levels of contributions.
For more information on how you can join in the transformation of Legendary Downtown Sturgis, please contact any of our Board Members at DowntownSturgisFoundation.org.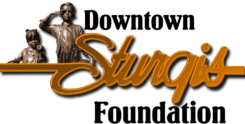 2040 Junction Ave Sturgis, SD 57785
6053472556