About

Eagle Uniform & Supply Co.

About Us:

Joe Hinkle, the founder of Eagle Uniform & Supply, worked at a laundry mat in college and processed G.I. uniforms in the Navy. After his time as a South Pacific Navy carrier pilot, he spent many months hunting, fishing, and traveling through Wyoming. When he decided to establish his business he knew he wanted to live out west.

Thus, Eagle Uniform & Supply was born and headquartered in Lander, WY.

Currently, Joe's grandson, Jess Hinkle, is the President of Eagle Uniform & Supply, and he strives to maintain the same grit and passion his grandfather had so many years ago.

Eagle Uniform & Supply is proud of the partnerships we've established, and we continually endeavor to find better solutions for our customers, and our Rocky Mountain community as a whole.

We've grown a bit since 1964, but we still pay homage to our small town roots, offering personal, flexible, and guaranteed service throughout Wyoming and Northeastern Colorado.
Amenities
Uniforms
Flame-Resistant Uniforms
Floor Mats
Sanitary Products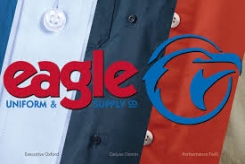 494 Main St Lander, WY 82520
2147483647
Mon - Fri: 7am-5pm
Sat - Sun: Closed