About

KBHB/KKLS Radio

BIG81 - KBHB is South Dakota's most powerful radio station at 25,000 watts. Western South Dakota's ONLY ranch station features extensive coverage of livestock, commodity, and financial markets. KBHB also broadcasts local and world news, with ABC News at the top of the hour, and breaking news as it happens.

KBHB also features great country music from the 1980's to the big hits of today.

KBHB is now owned by locally-owned Homeslice Media Group, who acquired the station, along with KKLS, in July of 2014. Homeslice grew larger as it acquired Rushmore Radio in Rapid City in early 2016. Sations acquired in the deal include KKMK, KFXS, KOUT and KRCS.
Amenities
Farm Radio
Livestock Market Reporting
Commodity Market Reporting
Financial Market Reporting
Live Radio Auctions
Local News
World News
Weather Reports & Forecasting
Classic Country Music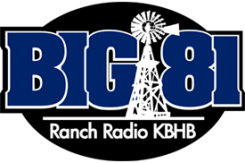 1612 Junction Ave Ste 1 Sturgis, SD 57785
6053474455
Mon - Fri: 8am-5pm
Sat - Sun: Closed