About

KYDT/KBFS Radio

The Country Twins is a talk radio station focused on the tri-state area and the wonderful communities in it! You can find 24/7 content simulcast on our AM and FM stations, just tune in!

KBFS 1450 AM has been broadcasting out of Belle Fourche SD since 1959. KBFS is a 1,000 Watt AM station, with a loyal Farm and Ranch following. KYDT 103.1 FM went on the air in 1997, and the tower is located on top of Warren Peak in Sundance Wyoming, and licensed to Pine Haven Wyoming. KYDT simulcasts it's programming with KBFS.

KBFS/KYDT keeps our listeners abreast with the latest news, conservative talk radio, Ag markets and trends, and are affiliated with:
The Northern Ag Network
Morning and Noon Market Reports
Belle Fourche and St Onge Livestock Markets
Montana and Wyoming News in Ag
Successful Farming and DakotaWest Ag Report
The Glenn Beck Show
Live With Jim Thompson
The Bold Republic with Glenn Woods
SRN News
Northern News Network
The Cowboy State News Network
University of Wyoming Sports
Denver Broncos
Colorado Avalanche
Denver Nuggets
Colorado Rockies
NASCAR Races
NFL Playoffs and The Super Bowl
Local High School Sports (Belle Fourche SD and Newell SD; Hulett WY, Moorcroft WY, Sundance WY, Upton WY, Wright WY)

Every weekday, KBFS/KYDT carries hour long news blocks with World, Tri-State and Local news and sports, weather and Ag information at 6:00 am, 7:00 am, Noon and 4 pm, with news and weather updates on the hour, and half hour.

Weekend programming includes:
Imagination Theater
Chronicles of the Old West
Spirit of the West
Clear Out West
The Lone Ranger
Sports
News and Weather
To top it all off, The Hottest Hit Kickin' Country Music in our Region overnight!
Amenities
Local News
Local Sports
High School Sports
Entertainment Programming
Agriculture News
Country Music
AM/FM Streaming
Livestock Market Reporting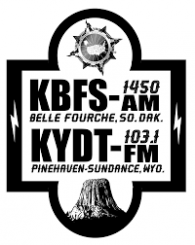 PO Box 787 Belle Fourche, SD 57717
6058922571