About

Milliron Granite & Quartz

The EXPERTS in custom granite & quartz countertops

We are a local best full custom granite and quartz counter top company based out of Sioux Falls, South Dakota but our area of coverage includes South Dakota, North Dakota, Minnesota, Iowa Nebraska, Montana and Wyoming. Our work has been on display in many Parade of Homes over the years including the Fall of 2021 feature home. We carry 15 Different brands of Quartz as well as hundreds of different colors of natural stones including granites, quartzites, marbles, dolomites, limestones and travertines. Please call us at 605-213-2200 for a free quote!

Stop in and have a coffee at our heated indoor showroom located at 27068 S. Mueller Place in Sioux Falls, SD - just 2 blocks east and 2 blocks north off of the Tea exit. We're also showing slabs at a temporary location in Rapid City! Check out our locations page for details.

The Story of Milliron Granite & Quartz

Milliron Granite and Quartz was founded in 2011 by Owner John Milliron. We provide custom granite and quartz countertops, as well as limestone, marble, travertine and other stones for custom applications. Whether you are doing a kitchen remodel, or building a new home, our team will connect you with the countertop that matches your budget and style. We will help you compare different countertop materials and pick the one that will best suite your kitchen. Our priority is quality custom countertops for your home that will last for years to come. Contact our team of experts to discuss your kitchen remodeling ideas and start looking at new countertops today!
Amenities
Granite
Quartz
Stones
Counter tops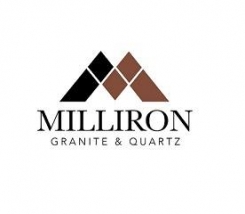 11700 Constitution Street, Summerset, SD, 57718
605-213-2200
Monday-Friday: 8:00AM-5:00PM
Saturday & Sunday: CLOSED