About

Northern Hills Eye Care

Mission

Providing uncompromised, professional, and compassionate eye health and vision care to our community.

Legacy

Our Practice began in 1944 by one of the most caring and compassionate optometrists imaginable. Dr. Donald P. Hines took pride in caring for the individual and their total well-being, not just their eyes. Dr. Daniel A. Watson joined the practice in 1967 and the two of them continued to provide a caring and compassionate optometric practice. Dr. Hines and Dr. Watson were held in high regard by the Sturgis community and by their professional peers. In 1989, Dr. David J. Prosser joined the practice as Dr. Hines retired from it. Together, Dr. Watson and Dr. Prosser carried on the tradition of caring and compassion. Dr. Jason M. Hafner joined the practice in 2002 as Dr. Watson retired from it. Sturgis' own Dr. Ross English joined in 2015. Dr. Hafner took a medical retirement in 2016.

Presently, Drs. Prosser, and English continue to move forward in the tradition of Dr. Hines' vision. We are "The Caring Eye Doctors"…We are Northern Hills Eye Care.
Amenities
Professional Vision Care
Comprehensive Eye Health Care
Northern Hills Optical Shoppe
Glasses
Sunglasses
Contacts
Appointments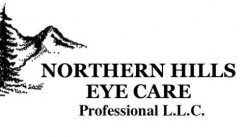 910 Harmon St Sturgis, SD 57785
6053472666
Mon - Fri: 7am-5:30pm
Sat - Sun: Closed