About

Ride N Rest Campground

Ride N Rest Campground is the top-rated place to stay among bikers during the Sturgis Motorcycle Rally! We offer camping for tents, Full RV Hookups, deluxe cabins, and even dry camping. We are conveniently located just outside of Downtown Sturgis, SD on State Highway 79, 1 mile north of Highway 34. Ride N Rest Campground has been voted best campground to stay for the Sturgis Motorcycle Rally year after year.

We are family & biker owned and operated. Our goal is to provide the best possible experience for our guests. Do not hesitate to contact us with any questions or requests so we can accommodate you to your specific needs.

Our grounds are well maintained with fresh amenities that are highly recognized by everyone. We offer breakfast and also our World Famous Steak Dinners to our guests daily. Our one of a kind shower house is by far the cleanest in the area. We are always thinking of new ideas and projects to keep our guests comfortable and entertained. Come check us out and join the party!

Our Mission is simple, but the key to our success. Focus on our customers and we will succeed. Treat everyone as you would want your family to be treated. After all, we are in business to serve you!
Amenities
Tent Camping
Cabins
Rv's
Rally House
Reviews
Great place to stay. Quiet at night. Good food. Wonderful hosts
Brian Rick
love this place people are friendly foods good and you can actually get some sleep.
Fred Bridge Jr.
Great Campground! great location! great hosts! We'll be back for 2020 for sure!!
Tony Mitchell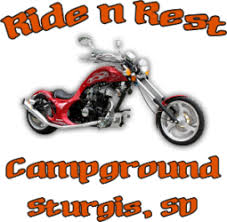 20494 SD Hwy 79 Sturgis, SD 57785
4908292