About

Rushmore Office Supply

Rushmore Office Supply was established in 1938 and has been locally owned and operated for 76 years.

In 1985, I acquired the business and was later joined by my sister, Paula in 2002. We both enjoy working with our customers one-on-one. We are of Lakota Native American descent and registered with SAM(formerly CCR.GOV). Paula and I both have a deep love for animals. We recycle toners and ink cartridge and then we donate the proceeds to our local animal shelter and volunteer fire department.

We are in a small town of 5,000 people, the majority of our customers are within a 30 to 50-mile radius of us, and We do want people to come in the door.

Please feel free to call either one of us, Carmen or Paula forbids or quotes or for any of your other business needs. We would love to hear from you.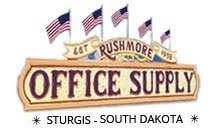 815 Junction Ave Sturgis, SD 57785
6053473326
Mon-Fri: 9am-5:30pm
Sat: 10am-3pm
Sun: closed