About

Sturgis Center for the Arts

Mission

"Our mission is to provide an environment of learning and appreciation of the arts."

Sturgis Center for the Arts was founded in 2004 and adopted this mission to support and expand the arts in our community. For our Board of Directors and managing team, this mission has always been the driving force behind our motivation and constantly evolving vision. We are pleased to offer a wide variety of art, music, theatre, and less-traditional arts programs to the vibrant Sturgis and Black Hills community; a community that was and continues to be our inspiration.
Amenities
Music Lessons
Art Classes
Music Books
Instrument Strings
Drumsticks
Woodwind Reeds
Slide/Valve Oils
Instrument Straps
Instrument Cables
Art Pencils
Art Charcoals
Painting Brushes
Painting Canvases
Group Lessons
Painting Parties
Birthday Parties
Special Events
Live Concerts
Lesson Scholarships
Artist Exhibits
FAQs
Q: Where are you located?
A: We are in the back of the HUB Insurance building at 1238 Main Street in downtown Sturgis! Our building is diagonal across the intersection from the Loud American. The door is located in the back alley.
Q: What do you offer?
A: We have an ever-changing variety of music lessons, art classes, art and music merchandise and supplies for sale, and special activities for all ages! Call or stop by our office to learn more. You can also sign up on our website!
Q: How can I support your organization?
A: We are always looking for sponsors to help us keep the lights on. We are a 501(c)3 nonprofit organization, so we collect most of our funding through grants, sponsors, and fundraisers. Our sponsorship levels start at just a few bucks a year! We also encourage corporate sponsorships. Every dollar helps support the arts in our community!
Reviews
Great place to create art and learn music!
Carol
We've been taking art lessons from Erica and violin from Kelsey. What a wonderful community they are creating here. If you're in the area definitely consider it for your child's art/music education!
Jennifer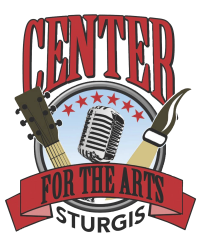 1238 Main St Ste 2 Sturgis, SD 57785
6053470242
Mon - Thurs: 2pm - 6pm
Fri - Sun: Closed