About

Uncle Louie's Diner

Uncle Louie's Diner was founded in August of 2019 by David Steward (Uncle Louie) and Debbi LaParr. The happy couple have dreamed of opening a diner in Sturgis ever since Debbie returned to her home town. After searching far and wide for a location, Dave and Deb struck a deal to lease a building on the beautiful historic Sturgis Main Street.

In 5 days, Dave, Deb, and their newly hired staff got work training, cleaning, and preparing for their "soft" opening day. On Aug. 31, citizens of Sturgis and visitors lined up to try the new food hub in town. It didn't take long for word to get out and soon people were coming in hoards and waiting their turn to try the food.

After several months of being open, Uncle Louie's Diner issued a challenge to the community. Eat a 6 pound burger and fries meal, get it for free and a t-shirt. This challenge has attracted people from all over South Dakota and its neighboring states. To this day, not a single soul has accomplished the Uncle Louie's Challenge.

The history of our diner would not be possible if it were not for people like you. Hungry patrons who enjoy a fresh, quality food in an actual diner, not a bar. We owe are success to you and will forever be thankful to you!
Amenities
Family Restaurant
Appetizers
Omelets
Breakfast Burritos
Breakfast
Kids Menu
Burgers
Burger Challenge
Sandwiches
Salads
Salad Buffet
Mexican Dishes
Soul Food
Desserts
Pancakes
French Toast
Lunch
Dinner Specials
Reviews
Always a great place to eat. Never disappointed!
Eric
We cannot give this diner enough stars!! The food was delicious, fairly priced and we had a blast with the wait staff!! We ate breakfast there 8 days in a row and Friday night dinner. We will be going back again next year!!!!
Deborah
Great friendly service, delicious food, amazing prices, clean and inviting atmosphere!
Michelle
Great place to eat but better come hungry! Tons of food for a low price.
Angie
Nice little diner. Nice people too.
Nanette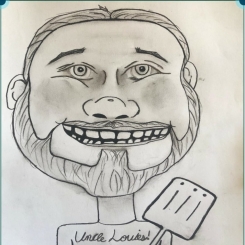 1039 Main St Sturgis, SD 57785
6057206475
Sun - Tues: 8am-2pm
Wed - Sat: 8am - 8pm