About

United Way of the Black Hills

Working together is what the United Way of the Black Hills is all about. Combining our talents and resources to create an efficient way to solve problems, help people and build our communities.
By making it easy to give. With one donation you can help many people because United Way supports over 100 programs and organizations in the Black Hills.
By being accountable. Every agency that receives money from United Way adheres to strict accountability standards. In addition, United Way is audited and evaluated every year.
By being effective. There is no simple solution to the problems we face in our community. The great news is that by working together we have made significant progress in all of these areas. It isn't just what we say, it's what we do.
By being efficient. Brochures, staff, and supplies all cost money. However, United Way utilizes volunteers and donated materials to keep these costs down so we can give as much of your donation as possible to the people who need it most. In fact, only 15 cents of every dollar is used for administration.
By helping people here at home. Our donors tell us it is important to them that their donations are used to help their community. When you give to United Way, 100% of your donation stays in the Black Hills to help individuals and families who really need help.
Amenities
Community Service
Community Advocacy
Nonprofit Funding Opportunities
Disaster Relief
Support Network
Fundraising Campaigns
Community Involvement
Volunteerism
Reviews
An incredible organization that does so much to bring people together to make positive change for so many in our community.
Renee
Proud of this amazing team!! Excited to serve today in Day of Caring!!
Angie
Great organization.
Glenda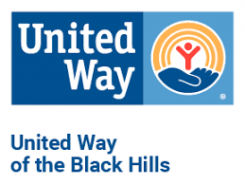 621 6th St Ste 100 Rapid City, SD 57701
6053435872
Mon - Fri: 8am-5pm
Sat - Sun: Closed