About

American Legion and Sturgis Veterans Club
American Legion
Open to the public! The American Legion is built on a promise from men and women who swore with their lives to defend and protect the United States through military service. The promise begins at enlistmenrt and grows through training and discipline in the U.S Armed Forces and continues after discharge, as veterans in service to community, state and nation.
Sturgis Veterans Club
Open to the public! The Sturgis Veterans Club is located at 868 Main Street in Sturgis, SD. We feature rotating dinner specials, karaoke nights, live music, and more. Visit our newly-renovated basement bar, with a military and cavalry history theme! Reserve now for your private events!
Amenities
Full Bar
Food
Beer
Liquor
Special Events
Pub Food
Cheeseburgers
Shrimp Baskets
Fries
Chicken Strips
Onion Rings
Salads
Breakfast
American Flags
Reviews
Good homemade food. Friendly staff. Reasonable prices. We love this place!
Karen
Love the hometown welcome!!! Highly recommend their drinks and burger night is awesome !!! Friendly staff and a peaceful union of strangers and friends!!! A must for visitors.
Sheila
We were there during Bike Week. Very friendly and great service!!
Susan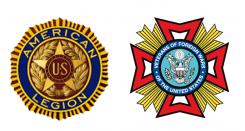 868 Main St Sturgis, SD 57785
6053474682
Sun - Sat: 12pm-2am