About

Workforce Diversity Network

What is The Workforce Diversity Network of the Black Hills?

We are a domestic non-profit organization that was incorporated in June 2014. We recognize that a healthy workforce is diversified and inclusive of persons with disabilities.

Who are we?

We are a group of local business owners, employers, and human resource managers with a vested interest in improving the workforce in the Black Hills region by creating a more diverse and inclusive workforce. We have incorporated as a domestic non-profit group and have established a Board of Trustees.
Amenities
Networking with Employers
Networking with Businesses
Advocacy for Persons with Disabilities
Educational Event Sponsorship
Awareness Event Sponsorship
Employer Resources
Disability Worksite Modification Resources
Disability Accommodations Resources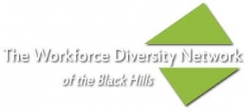 505 Kansas City St Rapid City, SD 57701
6057872590