Sturgis Fall Foliage Vacation/Staycation Guide
When to Visit
If your goal is to see fall foliage, we recommend visiting between mid-September and mid-October. The exact time the foliage peaks varies from year to year based on heat, precipitation, and a number of other factors; however, this timeframe has a good likelihood of experiencing at least a portion of our beautiful fall colors. Visitors during the fourth weekend of September can even participate in our town Fall Festival & Oktoberfest celebration! This year, the festival will start with a Stein Crawl on Friday, September 25th and transition to a family-friendly activity festival on Saturday the 26th from 4pm to 7pm including hay rides; free kids activities; free cider, hot cocoa, and other treats; fun competitions for all ages; a hay bale maze; and more!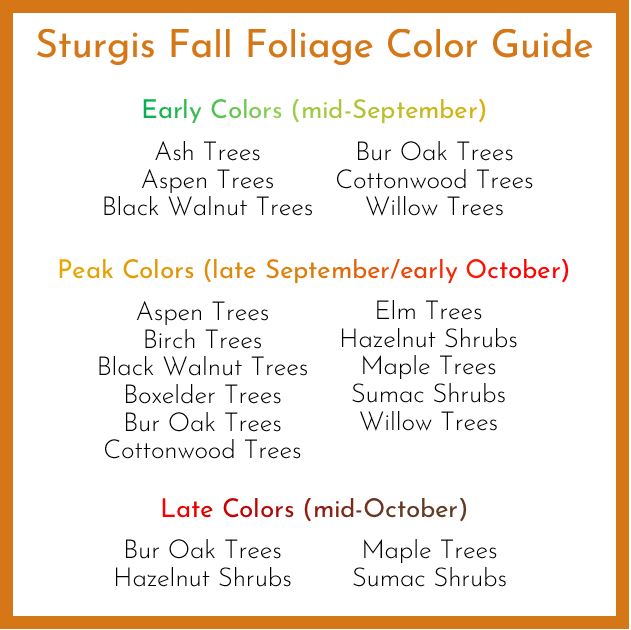 Where to Stay
Sturgis is the perfect central location for your fall foliage adventure in the Black Hills. We have numerous reputable accommodation options for every taste - try the new Hotel Sturgis for a boutique hotel experience in a newly-renovated historic building with a coffee shop downtown. Check out The Sturgis Motel for a ma-and-pop, budget-friendly experience conveniently located on a main artery into town, Junction Avenue. Opt for a more secluded stay with a view and fall farm tour at The Cottage at Bear Butte Gardens. Enjoy a tried-and-true favorite hotel franchise, like the Best Western, Super 8, or Days Inn. Finally, families or larger groups might find just what they're looking for with one of Wheeler Farms Vacation Homes or Executive Lodging's top-notch rental homes in the Sturgis area. To view all of our accommodations options including campgrounds, click here!
Where to Go
Once you finalize your accommodations, it's time to plan your fall foliage driving route! We recommend starting in Vanocker Canyon - it stretches from the southern border of Sturgis to Nemo, a small and unique community nestled in the heart of the Hills. As you get started, stop by Belle Joli' Winery's tasting room and vineyards right outside of Sturgis. They offer vineyard tours, mimosas, wine tastings, Sunday brunches (to die for!), and a variety of other dishes and gift items.
After Belle Joli', drive through Vanocker Canyon at a leisurely pace to take in the stunning foliage. Depending on the timing of your trip, you may see the bright greens and yellows of aspen trees, the deeper gold and orange tones of cottonwoods and birch, or the vibrant reds and chocolate browns of oaks, hazelnuts, maples, and sumac shrubs. Throughout the Black Hills, you will always see the deep greens of our native Ponderosa pine and spruce trees, as well as the frosty bluish-gray of the blue spruce. From Vanocker and Nemo, you can proceed to scenic Highway 385 north up to Lead, historic Deadwood, and beautiful Spearfish Canyon, or south on Nemo Road to Rapid City, Custer, Keystone, and Hot Springs. For those interested in sightseeing along with your foliage tour, view our favorite regional attractions here!
What to Bring
Weather in the peak foliage season can range from mild to chilly to warm. Mid-September and early October regularly experience above-average warm days in the 70s or 80s, but more typically temperatures in the mid-60s. Occasionally, September even brings an early snow storm! For this reason, it's a good idea to pack in light layers for easy adding and subtracting throughout the day. We also recommend bringing a winter coat, hat, gloves, and boots - just in case!
Aside from clothing, consider bringing supplies to make your foliage drives as enjoyable as possible. Bring a thermos with your favorite coffee or tea (we recommend a quick stop at The Coffee Shop at The Hotel Sturgis), and consider packing a picnic lunch. This will allow an opportunity to pick out a beautiful, secluded spot in the Black Hills National Forest along your route to better take in the natural beauty and crisp air of autumn in the Black Hills. Since it can also get surprisingly warm in fall in this area, be sure to bring a bottle of water to stay hydrated - especially if you opt for a spontaneous hike on one of our beautiful trails!
What to Expect
Visitors - or even "staycationers" - can expect to see a full range of beautiful fall foliage, while enjoying famous midwest hospitality. Our accommodations work hard to give each guest a top-notch experience. The vast majority of Sturgis's shops and attractions are open year-round! Make plans to also stop by one of our three renowned museums - the Fort Meade Cavalry Museum, the Motorcycle Museum & Hall of Fame, and the Sturgis Car Museum - stroll down legendary Sturgis Main Street to do some shopping, and try a few of our year-round eateries. Lastly, be sure to visit our friendly and helpful staff at the Sturgis Area Chamber of Commerce & Visitors Bureau located at 2040 Junction Avenue for all of your trip-planning needs. We are so thrilled to welcome you to our community!